the complete solution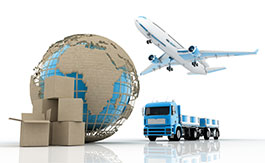 Complete Supply Chain Solutions transportation solutions are operationally sound and function on the strong backbone of stateof- the-art technology and Transport Management System. The Track and Trace mechanisms and efficient management and monitoring systems ensure transparency and step by step feedback about the status of your consignment.
Complete Supply Chain Solutions possesses the capability to provide all modes of transportation services i.e. by Air, Road and SEA or multimodal. As an end to end supply chain solutions provider, Complete Supply Chain Solutions also manages customers' documentation and compliance processes, thereby saving their valuable time and money.
CSCS Objectives:
Creating value for a customer
Building a strong infrastructure
Synchronized demand and supply
Quality measurement and monitoring
Value Added Services on Transportation and Lastmile
Plan For Each Part (PFEP)

GPS Tracking solution

1.GPS, Door sensor system for dedicated trucks
2.Wired GPS units for temporary / onetime usage trucks
Customized vehicles and solutions

Efficient consolidation with wide network